Ingéniérie
Expertise in exceptional transport
Although transport is a simple operation involving the movement of equipment from point A to point B, there are many factors that can affect this process and so should be considered beforehand.
Our experience enables us to offer a bespoke service that integrates transportation requirements with the customer's production chain.
Advice :
Our technical and regulatory knowledge are one of our strengths and we are able to provide optimised transport solutions that are secure and fully adapted to the requirements and constraints of our customers.
Upstream research :
For some jobs, it may be beneficial for a client to consult the carrier in order to optimise dimensions, stowage points, and any aspect that can help secure the transport process and reduce constraints and therefore costs.
A few centimetres either way can make all the difference !
CHABRILLAC :
we help our customers to determine the dimensions of their cargo,
we offer alternative solutions
and we can guarantee comprehensive consulting services on more complex topics, for example: route research, packaging research, and the implementation and optimisation of logistics networks...
The operational phase :
Route: When it comes to exceptional transport, the route taken can be essential. Our experience and our network of colleagues and associates mean we are able to determine routes ourselves.
We research routes, ensuring they are monitored and sustainable, but also that they are familiar and recognised routes by providing complete dossiers.
Securement - stowage: securing and stowing goods are essential parts of transporting cargo. Thanks to the calculation tools developed by our Design Office, we guarantee that the means we employ to secure and stow your goods are adapted not only to the cargo itself but also its correct positioning. Illustrated stowage procedures can be created.
Our stowage/securement trainer can provide training to our customers.

Legislative knowledge
In many European countries, there are a number of standards and technical rules regarding the stowage of cargo, stowage equipment (straps, chains, etc.) and the strength of the bodywork equipment and structures used. All Transports Chabrillac staff are trained in and knowledgeable of this European standard (12195-1), thus ensuring a full and a constant understanding of these techniques.
The application of stowage procedures helps us to reduce risk and thus improve our customers' reputation with their insurers.
Our engineering commitments
Stowage reports: for a specific cargo, our engineering department plays the role of consultant. Our various digital tools enable us to develop, simulate and offer solutions for cargo support and stowage.
A report, produced according to standard EN12195-1, is given to you so that all technical solutions can be validated during the preparatory phase of the haulage process.
Managing French and foreign authorisations : : part of working in exceptional transport and managing authorisations is benefiting from a network of European partners, meaning it is easier for us to obtain authorisations, whatever the country concerned. Through this same network we also ensure efficient and optimal coordination when it comes to researching and providing exceptional transport.
Route recognition : all journeys are carried out only after verification of the route, ensuring the smooth completion of each one.
Tools: our design office is responsible for researching and producing tools:
To improve the stowage of the equipment being transported
To ensure securement of the cargo : manufacture of tailor-made twist-locks/li>
Manufacture of custom twist-lock supports.
To optimise the positioning of the cargo and reduce constraints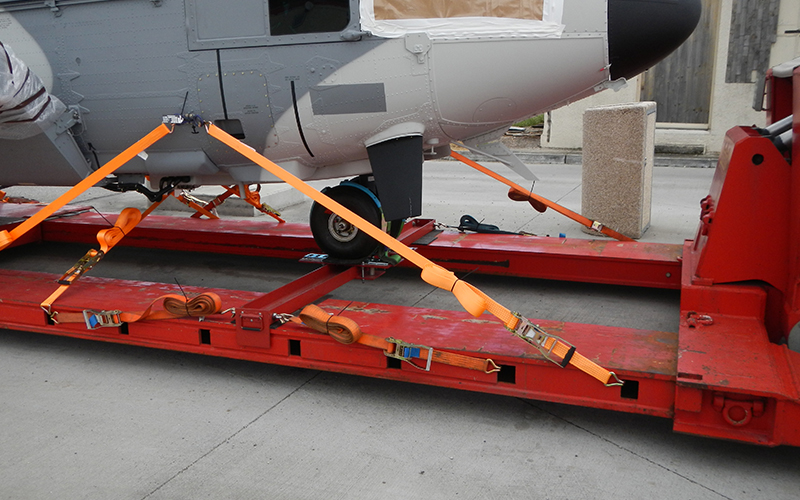 Engineering information
Prior to transport, we can provide :
A transport plan: this is a summary of all the aspects of the haulage process and it keeps you informed about each stage of each operation from loading to delivery
A loading plan: No improvisation! Before transport, we inform you about:
The number and nature of the tiedowns used
The positioning of the load
The stowage method (direct or strength securement)